Home again

(9/5/2022)

Under cover awaiting its next trip. That would be the Desert Bluegrass Assoc. campout the first weekend in October. Not too far away!
Where's Dan?
Rillito Farmers Market – Tucson
Pima County Historic Courthouse – Tucson
Oro Valley Farmers Market
Rillito Farmers Market – Tucson
No event found!
Dan Levenson
TEACHER ~ AUTHOR ~ PERFORMER
Dan Levenson is well-known among old-time music fans for his performances, recording, and his instructional material for clawhammer banjo and old-time fiddle. An Appalachian native, Dan makes his home in Tucson, Arizona.
Dan founded the renowned old-time string band The Boiled Buzzards. He now tours, teaches and performs solo at concerts and festivals or at dances with his current band, the Cat Mountain Rounders.
Click a slideshow image to read more.
Dan Levenson photo (above) by Steven Meckler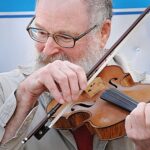 Contact Dan
clawdan1@gmail.com